Only Influencers
The top thought leaders in digital marketing share their insights and thoughts on the Only Influencers blog.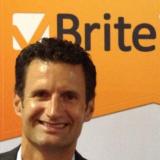 Do you hear the footsteps?  No?   Listen again because they are getting closer.   Before too long they will be pounding in your ears!

We all believe that our business models are uniquely awesome.  They are innovation at its finest.  They are true game changers. 

Q: Who are your competitors? 
A: We really don't have any! 

Those words never actually come out of our mouths.  We know better than that, don't we?
Our confidence grows as we sign up new clients, make some money, get some REALLY great testimonials, and use terms like 'j-curve growth' and 'lightning in a bottle' to describe what's happening.

What if we're right?  What if our businesses become disrupters?  What if we do create products or services that become ubiquitous?   Then what? 

How long will it take before someone out-innovates us?  The answer, unfortunately, is never as long as we think. 

The Kool-Aid
I am as guilty as anyone.  I drink the Kool-Aid.  I frequently have to force myself out of the 'look how great we are' mindset and into the 'why we're not as great as we think' mindset. 

Typically, this switch takes place during forced 'think-time.'  Time away from selling.  Time away from clients.  Time away from colleagues.  Time away from competition. 

It's a switch from parent to critic.  A switch from unconditional acceptance to unbiased judge.  A switch from dedication to destruction.  

Sometimes the switch yields a clue that needs further exploration.  Sometimes it yields small ideas that deliver measurable improvements.  Sometimes it yields nothing, which always scares me.

For me, the point of the switch is to create a channel for consistent and critical evaluation.  An evaluation of my business set in the context of the problems we solve.  The foundational assumption I always use is that my clients' needs never stay fixed, they always evolve.

If this assumption is true, then my business cannot remain relevant unless it evolves at least as quickly.  We have to grow ahead of market needs or risk becoming irrelevant.  If we stand still we get passed!


Late Fees
Does anyone still have a Blockbuster card?

I grew up on Blockbuster.  Friday nights would include a stroll around the 'new releases' perimeter.  The good movies were always gone and I would end up with my 5th choice. 

Despite rarely getting my first (or third) choice, Blockbuster owned my entertainment dollars back then.  Over time the demands of life forced my entertainment decisions from proactive mode to reactive mode.   The 'what to watch' question is now the last one I consider before crashing to the couch at night.

My demand for entertainment has not changed.  The timing of my decisions, however, have.  Since Blockbuster wasn't willing to evolve its offerings to meet my needs, we had to break up.  The decision to move on was mutual.

Blockbuster was always too late with technology and innovation.  This lack of vision likely led to its death.  Netflix, however, built its business model on technology and innovation.  This philosophy enabled Netflix to stay ahead of demand and compliment its DVD-by-mail model with streaming content to TVs, Blue-Ray players, mobile devices, TiVo, Roku, and the most popular gaming consoles in the world. 

Would anyone like to guess how many couch potatoes can consider Netflix as an entertainment option tonight?  I bet it's a lot and I bet almost EVERYONE will get their first choice.

This Pursuit Has No End
Blockbuster v. Netflix is one battle on a list of many.  One company chose to innovate while the other chose to sleep.  One chose to remain ahead of demand while the other chose to die.

The pursuit of business excellence is a process that has no end.  We must constantly challenge our ability solve problems better than anyone else.  We must ALWAYS be the BEST option available.  When we lose we must understand the 'why.'  We often learn more in defeat than we can in victory.

This process is frustrating, lonely, and tiring.  You will often be the only one carrying this torch, and that's a good thing.  If you are alone but successful in this     pursuit, you may very well send your competitors to their demise.

Just don't stop too long to celebrate!
Last modified on
Trackback URL for this blog entry.