It's that time again…. I dread it each year. The hearts everywhere in every color, sequin and bobble, Cupid with his stinging arrows, the flowers – don't get me started on the flowers! Every year since pretty much my tween's, I've hated Valentine's Day. Don't get me wrong, the idea of it is lovely – Romance, love, and all that, it's, well, a beautiful thing. But, I really don't enjoy the constant barrage of pink and red love with every breath and every turn.
This perspective shouldn't detract from a simple fact: Valentine's Day is a great Email opportunity. Everyone feels differently at different holidays. I'm sure plenty of Chanukah and Christmas emails are received by subscribers that would prefer the other version, those who do not celebrate the "pagan" Halloween holiday likely receive such themed emails, and Valentine grumps, like me, receive plenty of Valentine emails. It's the content and the purpose that make it a wonderful way to connect with your subscribers.
Oddly enough, even when I get the more romantic variety of Valentine email, I'm not usually put off by it – when it's done well and on brand. When a brand is pushing outside their established identity and make zero relevant connection between content and contact, then I use them as the "do NOT repeat" type of email example. But often, many brands use the angle of being "over the Cupid thing", and that's something I can totes relate to.
For instance, Uncommon Goods did a superb job at reminding people to love – and treat – themselves (and to tell Cupid to shove off):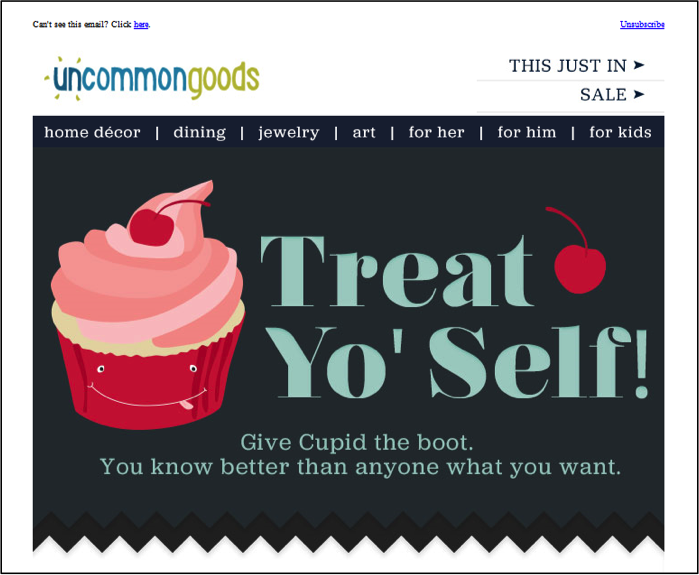 SUBJECT LINE: Tired of Cupid?
...
Last modified on