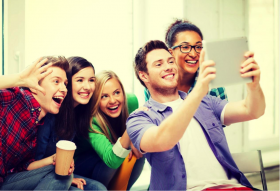 Last week, organic grocery giant Whole Foods announced its plans to open a low-cost grocery chain targeted at the millennial market. The concept, according to CEO Walter Robb, will be "unlike anything that currently exists in the marketplace," boasting "a modern, streamlined design, innovative technology and a curated section." In the same week, McDonald's—in an attempt to boost its falling popularity with the twenty-something set, revived its Hamburglar mascot complete with a head-to-toe hipster makeover. With two major players joining the race to capture (and retain) their share of the millennial market, media outlets and marketing professionals alike have called into question the efficacy of their tactics. Why the skepticism? All too often companies miss the mark when it comes to millennial marketing, due in large part to the mass confusion surrounding how to engage this elusive yet highly influential group.
How do you speak to "the selfie generation?" Well, for starters, don't call them "the selfie generation." Millennials comprise about 25% of the U.S. population, making them the largest demographic in the country. The sheer size of this cohort means they have big buying power and even bigger marketing potential. However, millennials present a unique challenge from a marketing perspective because they are more diverse, demanding and discerning than generations past. Millennials are the first digital natives; oversaturated with marketing messages since birth, they don't trust easily. They have mastered the art of sifting through the daily onslaught of competing promotions—processing, analyzing, critiquing, and rejecting. According to the McCarthy Group, an astounding 84% of Gen-Yers don't trust traditional advertising, speaking to the need for innovation when comes to millennial marketing.
If millennials are so distrustful of traditional advertising, how do they inform their purchase decisions? Tap into the millennial mind with these 4 digital marketing tips guaranteed to drive brand loyalty:
1. Email is not dead. While it's true that Millennials are checking their email accounts less often, the 2015 Salesforce State of Marketing report reveals that your young subscribers still want to hear from you in their inbox. In fact, most millennials have an email account solely dedicated to promotional content, with 95% of them subscribing to an email list after "liking" a company on Facebook. Since millennials admit to checking their social media accounts far less often than their email inboxes, it's all about the quality of your messaging and putting the right content in the right channel. Use email and social media in tandem to target your millennial shoppers, or better yet--combine the two for powerful results. Thanks to real-time behavioural marketing technology available today, marketers can now incorporate live social feeds and dynamic product suggestions into their email campaigns. The beauty of such features is that your social and product feeds are delivered in real time from the second your millennial subscribers open your email.
While Millennials may claim to place less importance on email communications, a recent article published by Marketing Land reveals that Generation Y is seeking "downstream, one-to-one contact with companies, whether for transactions, updates, customer service or other dialogues." According to the article, when given the option between communicating with a brand through email, in personal, postal mail, social media, phone, online chat or text message, "respondents overwhelmingly chose email straight across the board." Social media is a great platform for what AWeber calls "fun communication," a role that can be fulfilled with the help of brand ambassadors (more on that later), but email has proven to be most effective for more serious, personalized messaging.
...
Last modified on