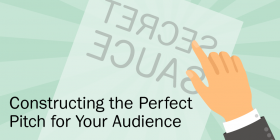 The best pitch I've ever seen had no design to it, whatsoever.
The potential partnership was with an ad agency well known for amazing designs and creative. The room we walked into was pristine. As a team, they looked crisp, and as individuals they looked like ninjas dressed in black Armani. The Account Director, their "big guy" for the meeting, introduced his team in specific roles, and in glowing terms. And with each introduction, that member introduced his or her self with a polite thank you, followed with a very strategic statement of why they were in the room, how they would operate in the partnership and their researched approach on how they saw the road ahead. More, they turned to their most likely counterpart on our team, creative to creative, technician to technician, account person to account person, and made sure our team knew their role and best contact. They recited common projects they'd worked on in common roles, by researching my team's work history and references. They knew more than we did.
It was precision.
During this whole time, there were no slides projected. There were no brochures or other collateral, save for one piece of paper. The Director held it face down on the table and alluded to the importance of what was on the printed side. They had boiled this rather important partnership down to one piece of paper! At every opportunity he teased the room with what was on the printed side, and he patted it like it was his baby. Frankly, it was.
By the time the introductions in the room finished its rotation, it was his turn. And, by the time he slid the paper across the long desk for us to see, he knew he'd already won. And so he did.
...
Last modified on