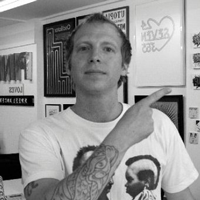 Which marketing emotions drive your audience to respond to your subject lines? Find out now. Based upon actual statistics.
Introducing Phrasee Pheelings™ Lite – an Open Access version of our artificial intelligence tech.
On behalf of Phrasee I'm super stoked to announce the open-access version of our tech stack – Phrasee Pheelings™ Lite.
FAQ:
Awesome! Hey, what is Phrasee Pheelings?
It's the first ever tech that takes your past subject lines and algorithmically understands what marketing emotions drive response in your audience.
Does it work?
Yep. Here's an example:
One of our clients is a large bicycle retailer. We ran their last year's worth of subject lines through Phrasee Pheelings and, using advanced stats, determined the optimal emotional combination based upon their past results: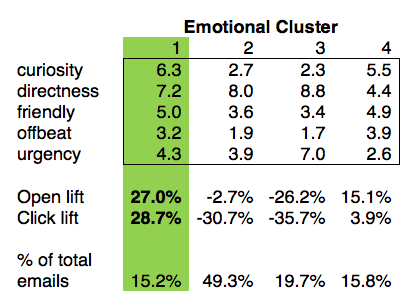 Through Phrasee Pheelings, they learned that 85% of their emails were throwing away opens and clicks... and now use Phraseeto produce subject lines that got WAY more opens than their own.
Another example: a huge global charity: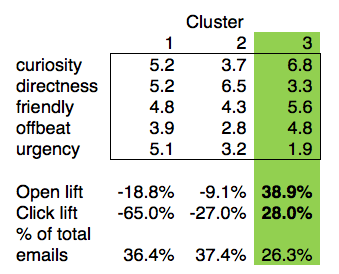 I've got LOADS more examples, shoot me offlist to get more stats if you're interested.
Why should I use Phrasee Pheelings?
The emotional content of your subject lines is what drives response. But not just any emotions – we focus on the emotions that actually matter in a direct marketing context.
It's the only tech on the planet that quantifies the emotional content of your past campaigns.
Why should I believe Phrasee Pheelings?
Phrasee Pheelings was developed by our Chief Scientist Dr. Neil Yager PhD, in conjunction with Dr. Fiola Helgadottir PhD, the Oxford University psychology researcher & professor.
It's based upon academic science, and cutting-edge, proprietary deep learning algorithms.
The psychology has been academically verified. And the AI has been algorithmically verified. It's awesome.
What does it cost?
Phrasee Pheelings Lite is open-access. Which means there's no cost.
Limitation: You can use it up to 3 times per day.
We're not charging for the Lite version, but if you like it, there's a link on the landing page below to donate to Syria Relief. Give a dollar or two – it's a great cause.
TL;DR
Phrasee Pheelings is the first tech on the planet that algorithmically understands the marketing emotions you've used in your past data that deliver results.
To have a full analysis done of your past subject lines and deliver you actionable advice like in the example above, well, this does require an investement. Drop me a line offlist if you want to understand what makes your audience tick.