The importance of data on your results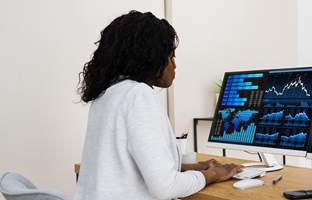 So…. Data! Do you love it or hate it?!

For me, data is the absolute power source of all you want to implement in your email marketing (and multi-channel marketing) strategies.
Without data you can't identify who you're talking to, in order to better target your copy and offers; you can't ascertain where that person is in their journey with you, so that you can better help them; you won't know what they've bought, when, and how many times, to allow you to adjust your nurture strategies to engage loyalty.
In the work we do with clients at eFocus Marketing, data always comes up in the initial stages of our conversations.
If we're looking at deliverability issues, we're looking for not only what the results of the send were (to identify where issues might be occurring, such as high complaint or bounce rates), but also the quality of the database in terms of how its handled and how its initially collected.
All of these elements of your data, and more, have a massive impact on getting your emails in front of your subscribers.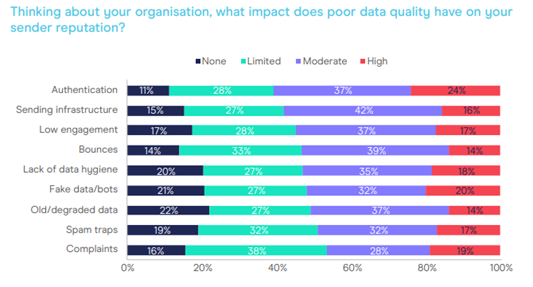 (Source: DMA and Validity - Email Data Quality, Compliant Correct and Complete Report https://www.validity.com/resource-center/email-data-quality-compliant-correct-and-complete/ )
If we're doing a programme or specific campaign evaluation, we want to know who the email(s) are being sent to, why and what characteristics or behaviour they have previously shown.
When creating new strategies, we look for opportunities to create new, valuable segments, utilise data to personalise the content and offers we're sending and ascertain when the best time is to send it to them in terms of their place in the customer lifecycle.
To work to their maximum, your email programs need a broad set of data.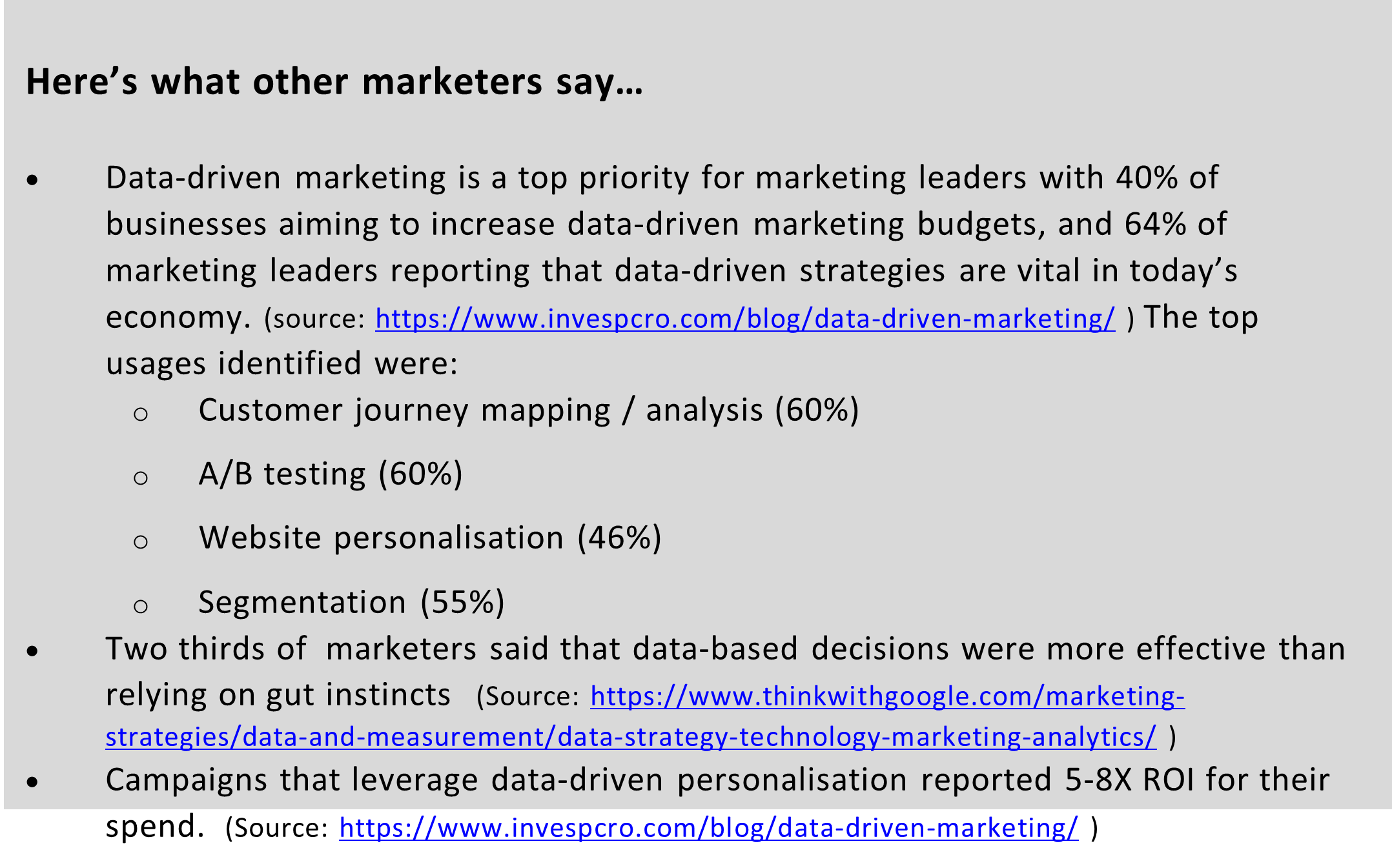 So, how can you learn to love, and rely on, your data?
1. Understand that data reaches into every part of your planning and implementation.
You have to have a thorough understanding of your data in order to use it effectively; not just to rely on your data teams. You should be driving the conversations and analysis based on what you want to achieve.
You need to understand what you currently have, and where, what you're using and not using (or could be using) and where are the gaps in what you know about your subscribers vs. what you would like to know about them.
You also need to think about how you can use this data together to give you a deeper understanding of your audience and their needs; whether through data teams, your own segmentation strategies or using AI to predict what the reader will respond to next based on previous behaviour.
There are three key groups of data that I always look for when assessing the current data situation:
1. Your audience
Known Data:

Demographic, Firmographic, Psychographic. Collected directly from asking the subscriber.

Cultural Data.

Data which relates to differences in cultural norms and surrounds your wider information.

Contextual Data.

Including information about what's happening for the subscriber right now, such as location or device they're using.

Behavioural Data.

Tracking subscriber behaviour on your website, across your business and with your marketing channels.

Purchase Data.

Information such as what, when and how many times they've purchased from you.
2. Qualitative data
You'll likely have a range of qualitative data from sources such as focus groups, user experience studies, surveys, Net Promoter Score (NPS), customer service feedback and social media; all offering a deeper understanding into the persona's you're targeting (what they need, their language and much more).
3. Post send data
This includes stats around your inbox placement as well as email performance such as opens, clicks, complaint rates etc. All of which tell you how your campaigns performed in terms of reaching and engaging your audience, and how you could improve in the future.
2. Overcome Your Data Challenges
Now this is often where it gets tricky!
Different data in different systems, lengthy IT team support wait times to get anything changed, systems interlocked so tightly with each other than getting anything changed is impossible, an overzealous legal team….. but what if we looked above that?
What if we looked for other ways to gain the data we need rather than the obvious source? How could you garner what you need elsewhere or by combining other pieces of data you do have?
Can you circumvent any other the logistical challenges you're meeting in the short time whilst they are resolved at a larger company level in the longer term?
And if not, what have you got already that you could make better use of?
3. Trust in your data
Trust in their data is another challenge that a lot of companies face.
According to the DMA Marketer Tracker 2020, 42% of respondents cited data as a significant challenge for them; this includes lack of data, data degradation, data siloes and data bias – all adding up to a lack of trust in the data and therefore lack of use.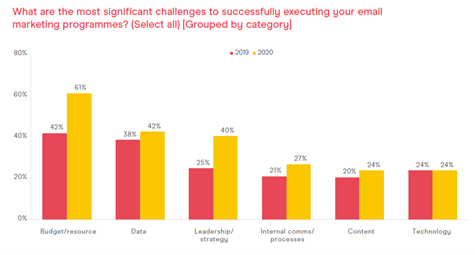 Ensuring the data that you have and use is accurate, is critical to delivering maximum impact from your campaigns; and marketers agree: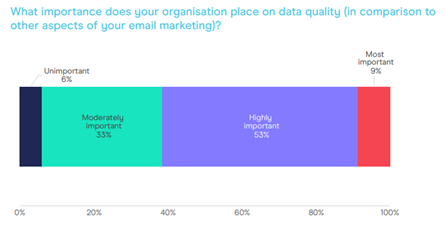 (Source: DMA and Validity - Email Data Quality, Compliant Correct and Complete Report https://www.validity.com/resource-center/email-data-quality-compliant-correct-and-complete/ )
Accuracy comes in many forms; from ensuring information such as their email address is correct and reachable, to knowing that your data fields contain data when using it in your campaigns, or using the right pieces of data in the right way in your segmentation strategy.
Think about how you can assess and ensure the accuracy of your data in different ways within your business; how you collect it directly from subscribers, how you prioritise and arrange your different types of data and how you utilise it.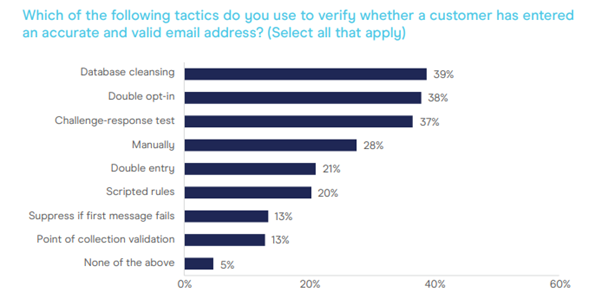 (Source: DMA and Validity - Email Data Quality, Compliant Correct and Complete Report https://www.validity.com/resource-center/email-data-quality-compliant-correct-and-complete/ )
Up-to-date, relevant data is critical for advancing your strategy.
How do you analyse, report on and use the data you have in your business and where can you see areas you could improve on?