Unboxing eDataSource's Inbox Tracker
Way back in 2004 when eDataSource first launched, it was conceived of as a competitive email tracking tool, the first of its kind. But they quickly discovered that clients really had no insight or intelligence into their own email campaigns, let alone their competitors. There was certainly no 3rd party monitoring tools for email marketers and clients began to use the tool to keep tabs on which of their own campaigns and affiliates were driving traffic to their site.
Fast forward 15 years and the eDataSource suite of tools and email intelligence have become an integral part of a marketers bag of tricks. A while back, we looked at the competitive side of eDataSource's offerings, Competitive Tracker. Today, we take a look at the tools that brands are using to monitor their own campaign success and list health: Inbox Tracker.
Inbox Tracker consists of three main modules.
The Deliverability Dashboard
Advisors
Brand Protection
The bulk of this article will be a deep dive into the Deliverability Dashboard, but let's quickly look at these two newer modules.
ADVISORS
Advisors consists of Reputation Advisor and Subject Line Advisor.
Reputation Advisor is an online audit that eDataSource performs. The audit looks at over 100 variables which include everything from checking your configuration in the tool, to infrastructure checks on your mail servers, IP reputation and performance checks, and authentication & compliance audits. This kind of an audit would alternatively takes tens of hours to review and complete manually.
Subject Line Advisor integrates Persado's marketing language database into the eDataSource platform, providing new and cutting edge insights to marketers on subject line performance and the emotional triggers that drive engagement.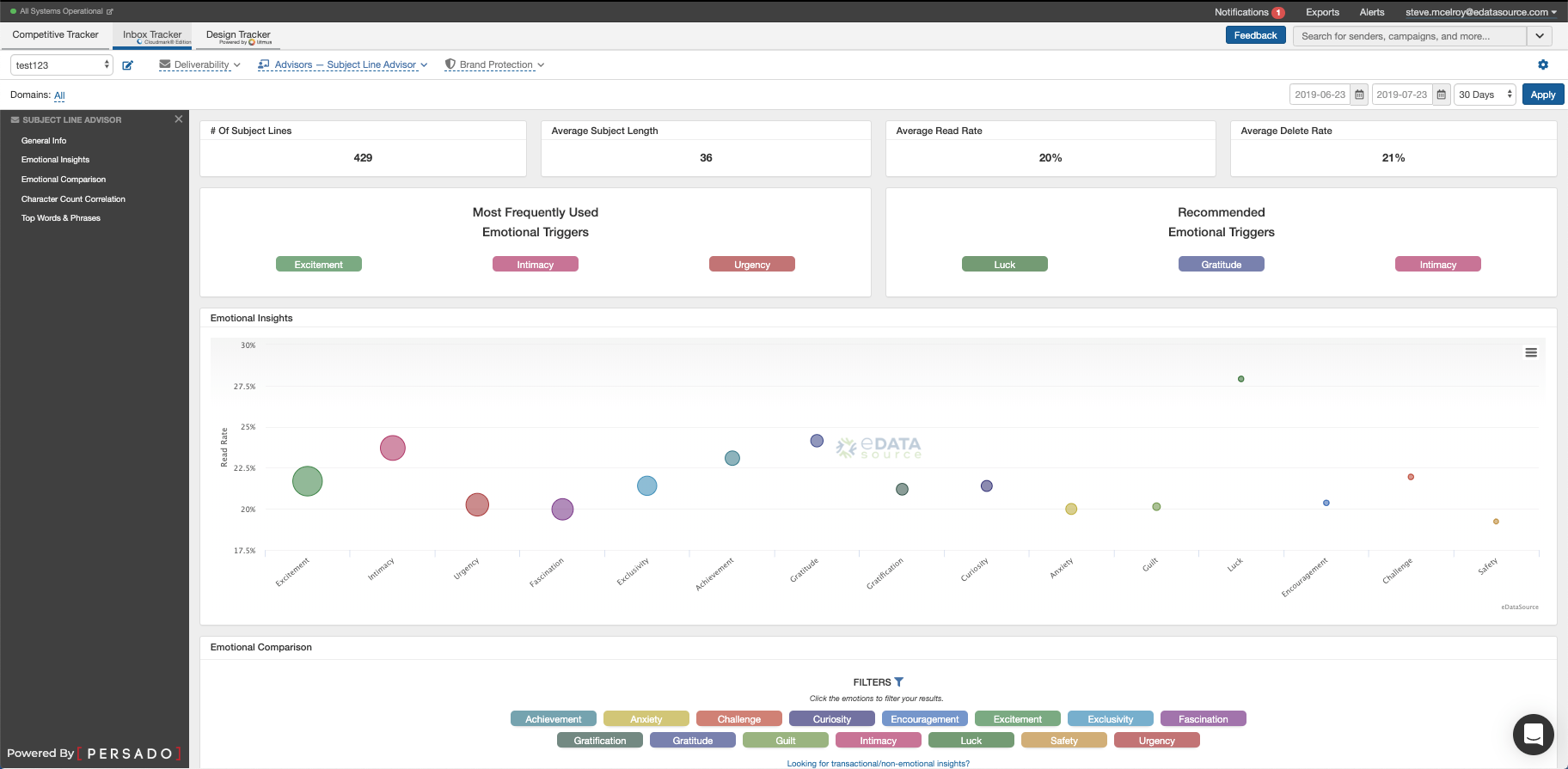 BRAND PROTECTION
Brand Protection is a new feature consisting of a DMARC Dashboard and a DMARC Policy Manager along with SPF and DKIM management to ensure that no one other than you can send email from your company domain. The widget provides clear and graphic monitoring of all your domains' DMARC and authentication pass and fail notifications and compliance monitoring.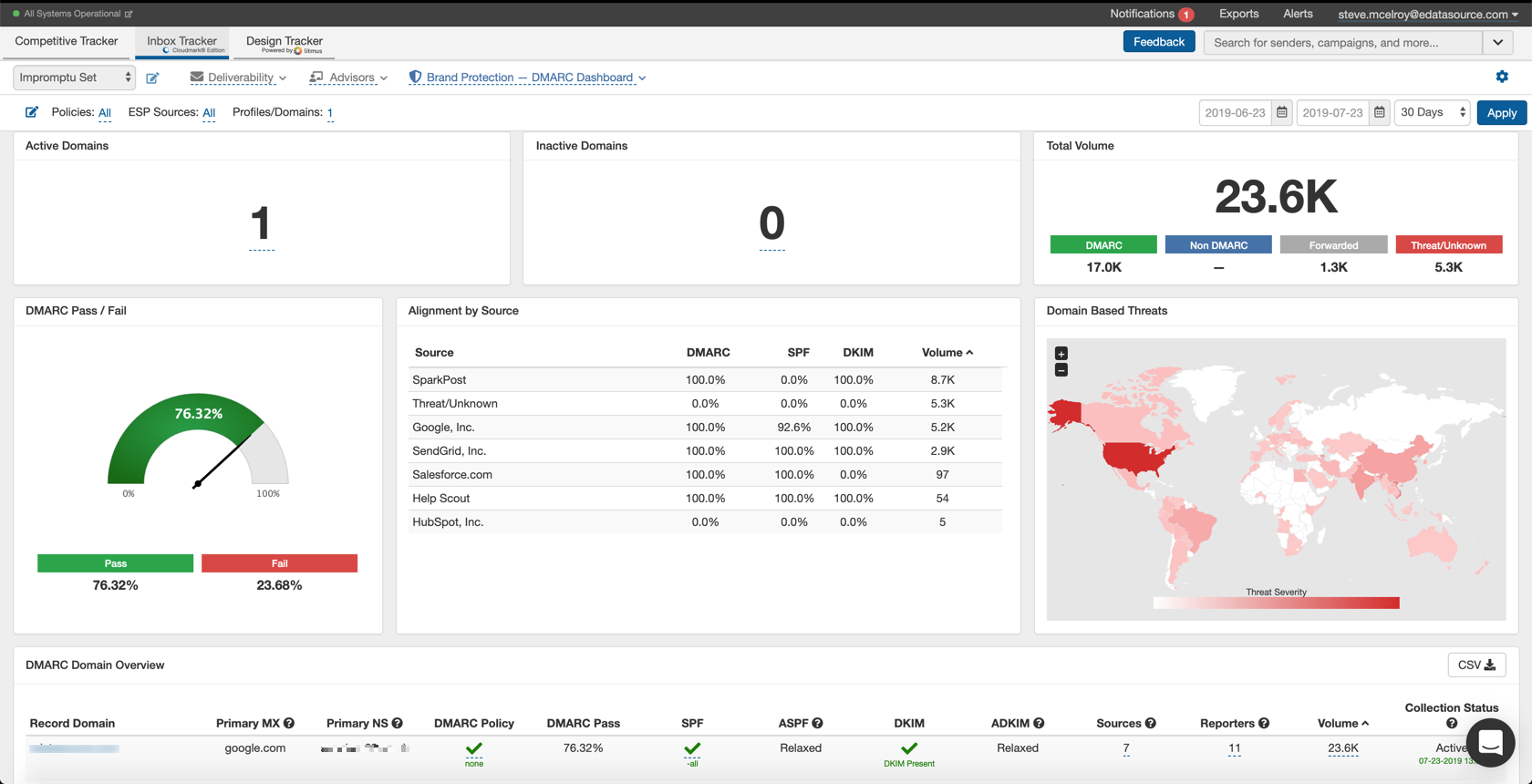 DELIVERY – DASHBOARD
The Delivery dashboard is the primary module of Inbox Tracker and here marketers can really get granular on their deliverability performance across ISPs. This allows for very detailed customization: customizable profile views to view all or some of your active domains, ISP weighting to normalize your view to the makeup of your list, and settings to configure blacklists, seed lists and other account settings for your particular email infrastructure. There are three main components to the dashboard: Deliverability, Reputation Management, and Authentication. Let's look at each widget: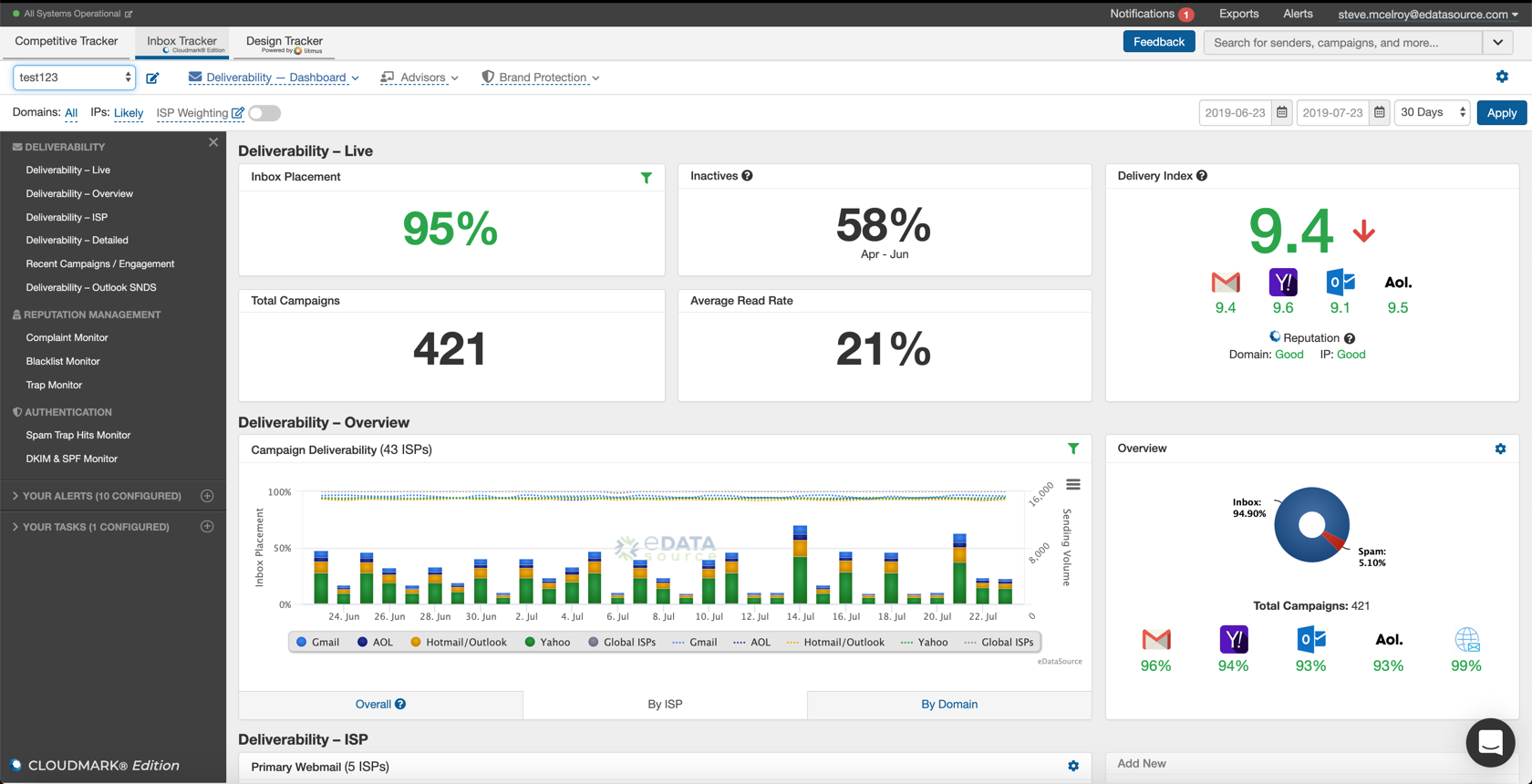 Deliverability - Live
Deliverability-live shows your total inbox placement based on the profile (one or more domains) you create and a date range (up to two years). One of the more interesting data points is Inactives. This is the percentage of inboxes that are not reading your emails, but are reading other brand's emails.
eDataSource provides a "Delivery Index" as well for fast visual monitoring of potential problems with your list. The lower your Delivery Index score, the worse your inbox delivery is at one of the major ISPs.
Deliverability – Overview

Deliverability-Overview provides your day-to-day delivery across all ISPs. Again, the view is based on different profiles that can include one or all domains you want to track. Campaigns can be tracked by either Date/Subject Line or by a unique Campaign ID (CID).
Day-to-day delivery can be viewed overall or by individual ISPs. eDataSource monitors 43 different ISPs across their panel data, the largest coverage on the market. You can also view delivery by domain as well as a side-by-side comparison of domains.
Additional widgets allow the marketer to get more granular detail on the delivery of just the top 5 ISPs or a specific ISP they want to monitor more closely, as well as Reads per hour and Sends per hour.
Recent Campaigns/ Engagement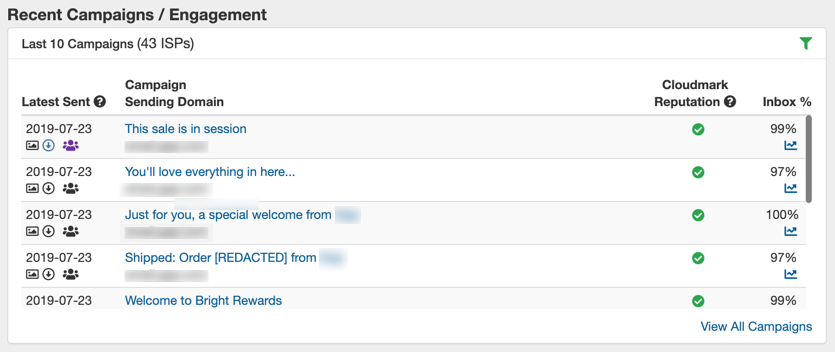 This widget is where marketers can drill down on individual campaigns. eDataSource suggests creating a unique Campaign ID (CID) so that campaigns can be tracked over time.
You can drill down on any campaign to get further details. A Cloudmark status check is included which reports back on any problems Cloudmark detects in any of the email content, links or attachments which could send your campaign to the spam folder. Subscriber metrics give details on the read rate as well as the Inactive rate.
Reputation Management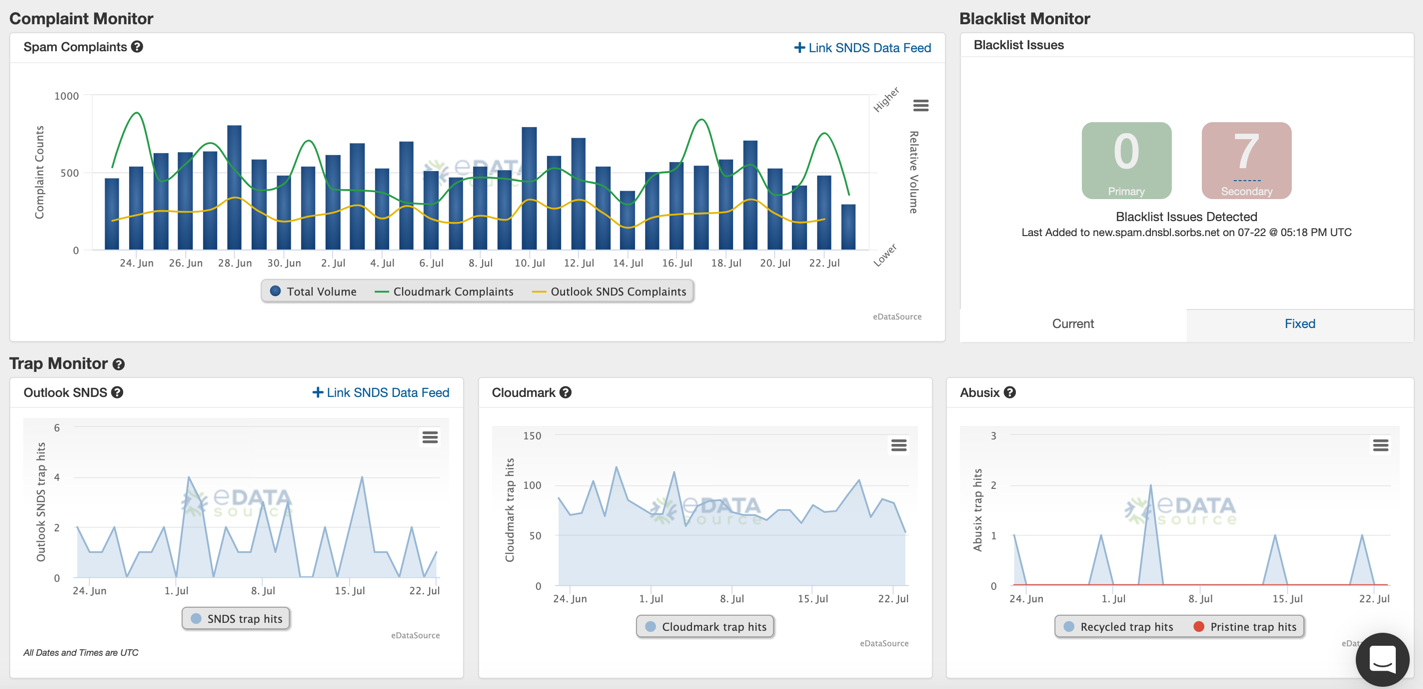 A subsection of the Deliverability Dashboard include three "monitor" widgets: Campaign Monitor, Blacklist Monitor, and Trap Monitor.
Campaign Monitor reports back on all Cloudmark and Outlook SNDS Complaints. Blacklist Monitor allows you to monitor primary and secondary blacklists and view how many blacklist issues have been corrected. Trap Monitor reports on any spam traps and honey pots in your lists and reports on both recycled and pristine traps. Recycled traps are abandoned email addresses that have now been recycled as spam traps. Pristine traps are email addresses designed to capture spam.
Alerts can be set up so marketers can be immediately notified by email or text that a campaign has triggered a blacklist or any of the other reputation triggers such as DKIM Record issue, Spam Trap hit, SPF Record Issue or a throttling issues.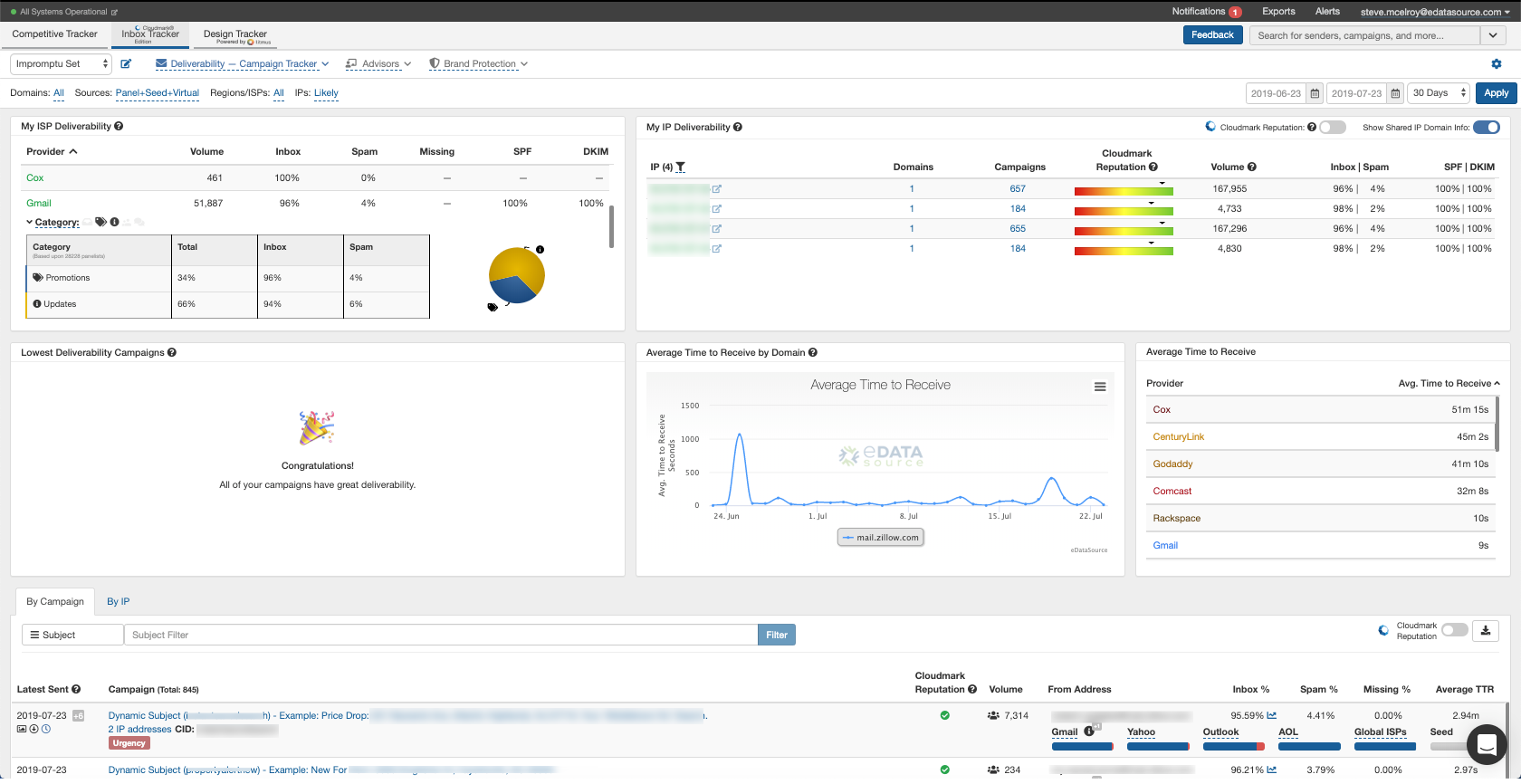 The Campaign Tracker widget provides deliverability transparency down to the specific ISP and IP level. Again, Cloudmark information has been integrated. One of the interesting features is the ability to identify the time to delivery for each ISP, which could have a significant effect on time sensitive campaign such as ticket sales if time-to-send is significant.
Reports can be downloaded into a spreadsheet and scheduled automatically at a frequency determined by the marketer.
Conclusion
Inbox Tracker is so feature rich, that I have only really scratched the surface. Other modules include an integration with Litmus for data on global campaign statistics such as browsers used and a newly-released Command Center which ESPs, agencies, and large brands can use to centralize monitoring across multiple IPs and sending domains. Many of these features are even available via API so they can be built directly into clients' existing products, reports or CRM systems. This powerful, comprehensive platform boasts the largest global network coverage in the industry, spanning all major ISPs.
To learn more and to get an in depth demo of eDataSource's Inbox Tracker contact sales@edatasource.com