17 Memories and Observations from 20 Years in Email Marketing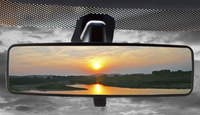 Can you trace that point, that moment when your email marketing career started?
The foundation of my email marketing career actually started with the launching of a paid subscription (printed paper) newsletter in 1988 while I was at the accounting firm Arthur Andersen. I dove in headfirst on taking courses and learning all about newsletter subscription best practices and direct marketing techniques which proved invaluable when I actually began deploying emails 13 years later.
I first got exposed to email marketing in late 1998 when I worked at USWeb/CKS and interacted with the internet agency's email marketing services team. But I peg early 2001, when I was CMO of the start-up Netstruxr and Nick Einstein (now with Cheetah Digital) and I started deploying email marketing campaigns with GotMarketing, as the official start of my email marketing career. Going with that starting point would mean this month is my 20th anniversary in email marketing.
17 Moments and Observations
One of the signs of getting on in years is you tend to look to the past a lot. Often for insights, but sometimes just for fun and to reminisce. I'll let you be the judge on which is which, but the following are 17 observations and memories from 20 glorious years in email marketing.
"E-direct" mail:

Many of the long-time email marketers likely chuckled at the reading of "E-direct mail," a shortened version of "electronic direct mail," which was one of the common ways that email marketing was referred to in the early days.
"List rental" wasn't a bad word:

In early 2002 I started an email marketing agency called Intevation and for many of my clients my core services were managing email list rental campaigns. At this stage of development of the email channel, list rental was very popular and seen as the logical way to start or grow your email database.

What is this thing you call email marketing?

A year later in March of 2003, I decided to close down my agency and I joined a young ESP called EmailLabs as vice president of marketing. But the reason I decided to throw in the towel was that I was spending too much time having to not only educate potential clients on the value of email marketing, but fundamentally what it was and how it worked. At least for me without a sales team, it was simply too early for a small agency.
Gmail arrives:

I can almost remember it like it was yesterday when I got the invite from Google in 2004 to get one of the early Gmail accounts. At the time, Yahoo, AOL, and Hotmail had the most market share among consumer inboxes. But after 15+ years, Gmail has trounced those three email providers and for most consumer brands, Gmail accounts for a majority of email addresses. AOL and Microsoft and even Facebook for a short moment tried to take on Gmail several years ago, but none made a dent in Gmail's dominance.

OMG, preview panes:

I think it was 2006 and I had a prime-time speaking slot at the Marketing Sherpa conference in Chicago presenting on the impact of preview panes to more than 600 worried email marketers. While few email marketers will lose sleep over preview panes in 2021, a lot of email marketers back in 2006 and today are still confused about how they do and don't impact their email open rates.

Measurement standards:

Speaking of confusion over open rates, along with David Daniels then of Jupiter Research, John Caldwell, and several others, I helped kick off an industry initiative to try and standardize email metrics across all of the email service providers. One of our recommendations was to move to a more accurately named metric which we called the render rate. For whatever reason it never took hold. But it's never too late if anyone wants to try to resurrect the render rate.
B2B marketing automation emerges:

In 2007 there were two primary B2B marketing automation solutions - Eloqua (later acquired by Oracle) and Vtrenz (acquired by Silverpop in 2007). And then it became a huge category with new players emerging including Marketo (later acquired by Adobe), Pardot (later acquired by ExactTarget), HubSpot, ActOn, and many others.

Data breaches:

One of the rough patches in the industry was around 2010 when several ESPs and data companies had data breaches. The attackers were very sophisticated, and I even remember receiving one of the infamous phishing emails that tricked many people. Silverpop, my employer at the time, was one of the ESPs that was breached but also one of the few that actually went public with the information (many others tried to keep things quiet).
Handled incorrectly it could've put Silverpop under. But under CEO Bill Nussey's leadership it was handled magnificently and contributed to an already amazing bond between employees and the company. This "family" lives on among hundreds of former employees affectionately known as "Poppers."
We say goodbye to Stefan Pollard:

One of the wisest, nicest, most respected, and loved people in email marketing was a mountain of a man, Stefan Pollard. I had the pleasure of hiring and working with him at EmailLabs in 2004. Stefan had a special way of bringing people together by having a deep understanding of the needs of both sales-driven marketers, and the ISPs and deliverability folks that policed the inbox.
In May of 2010, Stefan passed away, devastating the industry. Through the Email Experience Council (EEC), Stefan was honored through the creation of a new industry award - of which I was honored to be the first recipient.

Big tech joins the email fray:

Acquisitions of ESPs were nothing new to the industry, with early ones such as Siebel acquiring Boldfish in 2003, Experian snapping up CheetahMail in 2004, Acxiom buying Digital Impact in 2005, and that year holding company JL Halsey acquired Lyris and my employer EmailLabs. And over a few years YesMail acquired four ESPs if I recall correctly.
But all of these and other deals seemed like small potatoes compared to those that happened beginning in 2013 when Salesforce acquired ExactTarget, Oracle gobbled up Responsys, and in 2014, IBM snagged Silverpop, which I had joined in 2008.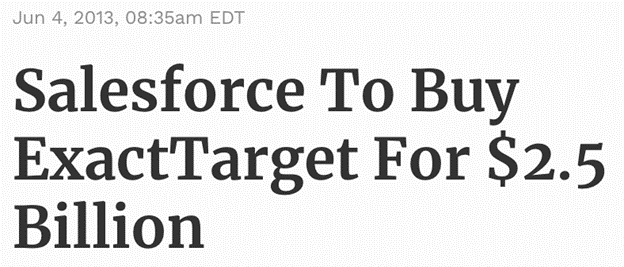 The new kids on the block:

After the Exact Target, Responsys, SIlverpop, and other acquisitions, a slew of new ESPs started to emerge to create significant competition, especially in the tier two category. Companies such as Cordial, Braze, Klaviyo, and Maropost emerged along with companies like HubSpot, Sailthru, and DotDigital that had emerged several years earlier.
"It depends":

As everyone in email marketing knows, the answer to every question is "It depends." But there was a period in the industry when at conferences and discussion groups like Only Influencers (previously known as Email Insiders), the "it depends" answer was deemed unacceptable. At every turn it seemed we had to hotly contest the right or wrong answers to topics from single versus double opt-in to whether preference centers are worth the trouble. While those were fun times, in 2021, most answers are still "It depends."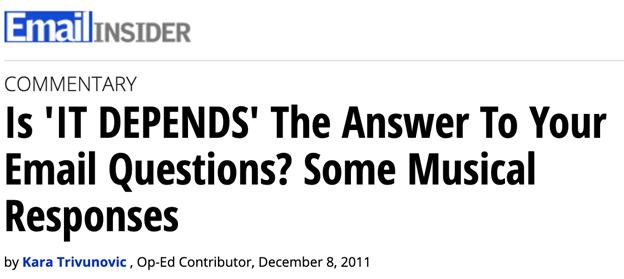 Career launching pad:

While a lot of people eventually leave roles in email marketing, there is no doubt that the channel is one of the best ways to start your career - especially if you stay in marketing or ecommerce. My oldest daughter is a great example. She started her career in email marketing and then moved on to eCRM and now she is in e-commerce.
In a recent job interview she apparently hugely impressed the interviewers with her deep focus on data and analytics. She shared with them (and her proud father afterward) that her start in email marketing is where she learned the importance of analyzing customer and campaign data and how to turn metrics into insights.
Email marketing isn't just about marketing:

One of the fascinating things that we saw during the beginning of the shelter-in-place restrictions in 2020, was the literally thousands of brands that sent emails "from the CEO" to their entire database. Years from now I think we will look back on that as an important moment as it was when email marketing became seen as invaluable for communications and brand messaging, and not just "marketing." Email marketing also invaded the C-suite, as we now see CEOs using email to communicate to their customers on topics including politics, race, global warming, and many others.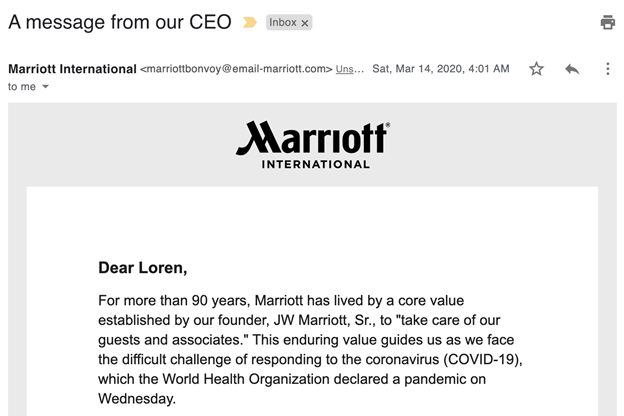 There still is no magic button:

"Email marketing is easy to do, but hard to do well." I don't know who first coined that phrase, but I've certainly used it a lot - and after two plus decades, it is still true.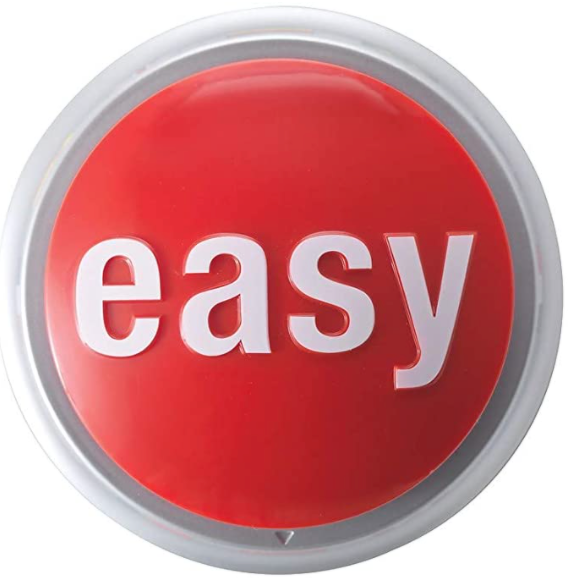 New voices, a new generation:

Email marketing has been around long enough now that people from the industry have retired (looking at you Bill McCloskey and Joel Book) or moved on to new industries and ventures. But what is so exciting is seeing all of the new voices that have replaced so many of the old timers (looking at myself) who have permeated the industry for so long. The industry needs new voices, and a new generation of thought leaders and it is exciting to see so many emerge these last few years.
A true community of friends:

As anyone who has been in the email marketing industry for a while can attest, the industry has always been about much more than just work relationships. I've made many true friendships that I know will last until my inbox is buried 6 feet underground (or cremated in my case).
Thanks for allowing me to take a trip down memory lane, I hope a few brought a nod or a smile to your face. Let me know if you have a favorite memory or observation. I had many more to share, but this is a blog, not a book...
Loren will be leading a discussion on this post during the OI-members-only Weekly Live Zoom Call from 12:00 Noon to 1:00 PM ET on Thursday, February 4, 2021. All members of Only Influencers are welcome to attend; if you're not an OI member but you'd like to join us, please reach out to Jeanne@OnlyInfluencers.com to see about securing an invitation.