7 Keys to Getting Better Results From Your Email Countdown Timers
Do you remember when countdown timers in email first became "a thing"?
I think it was around 2010 and I was presenting to a very large entertainment company client and they asked what I thought about countdown timers.They had recently tested them in their email program and were excited to add something new to their email program.
If I recall correctly, this client did see an increase in engagement - which made them pretty happy. I admit being a bit skeptical back then, but since those early days, countdown timers in general have proven to be successful, helping ecommerce stores, for example, increase sales by 400% for Black Friday promotions, according to OptinMonster. The value of countdown timers is that they create a sense of urgency, add an element of interactivity, and increase the fear of missing out (FOMO) among your recipients.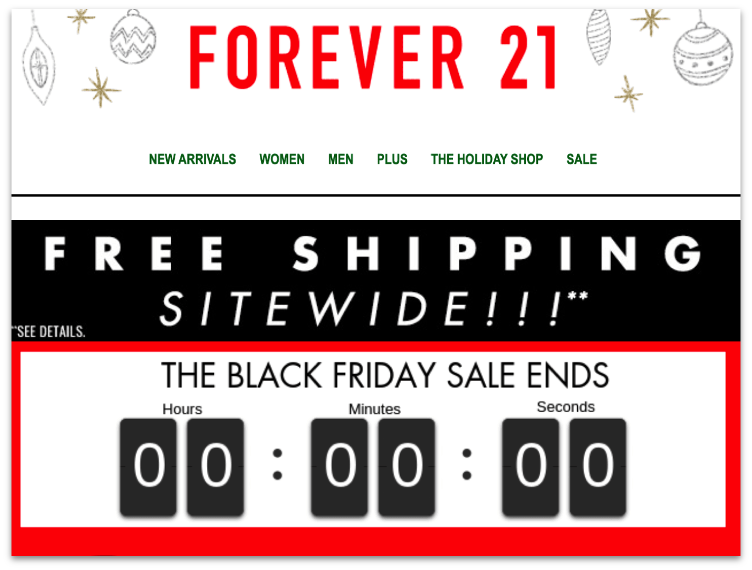 But using a countdown timer in your emails today is no longer especially unique or differentiating. At some level they have basically become table stakes for ecommerce and retail marketers, and can be expected by recipients rather than providing a "wow."
3 Ways to Think Differently About Countdown Timers
If you are currently using countdown timers in your emails, perhaps you've basically put them on autopilot and in turn your recipients have hit the proverbial snooze button in their mind. In this article I will share several ideas that I gleaned from a recent webinar from email smart banner company Zembula, that email marketers can deploy to get the most out of their email countdown timers. (Disclosure: Zembula is a client.)
Here are three overarching approaches to consider to wake up your timers:
Add personalization: Instead of just including a timer, think in terms of a smart banner that has personalized information and offers that may be triggered off the timer. (I'll share examples later in the article.)
Incorporate multiple sources of data: Provide value to the recipient beyond the timer by including usage data, loyalty points or status level, account status, items in shopping cart, etc.
Post-expiration: One of the obvious areas that a lot of email marketers ignore is what happens with the countdown timer once it reaches zero. When someone opens your email promoting a sale, an event, or webinar and your countdown timer has reached a static zero, not only is it a poor customer experience but it's potentially a lost opportunity.
Instead of letting a countdown timer stay at zero, replace the timer with a banner message that provides value or some motivation to email recipients to take a next best action. For an event like a seminar or webinar it might be to download a related white paper or report or to register for the next event/webinar in the series or view the recorded webinar.

For a coupon that expired it could be offering a discount that is still compelling, but perhaps half as much as the original. For a flash sale it might be to present them the number of days and hours until the next flash sale.
The idea is to not let that expiring clock go to waste when developing the use and purpose of the countdown timer. From the start, think about what you would want recipients to do if they missed the deadline and incorporate that into how you structure your overall timer program.
7 Examples of More Effective Countdown Timers
Following are 7 examples of specific use cases for countdown timers that incorporate data, personalization, and/or a post-zero approach.
Abandoned cart: Most ecommerce companies will only keep items in your shopping cart for a certain number of weeks or days. Adding personalization showing how many items someone has left in their cart and the time until the card expires and perhaps some form of an offer is an ideal way to increase conversions.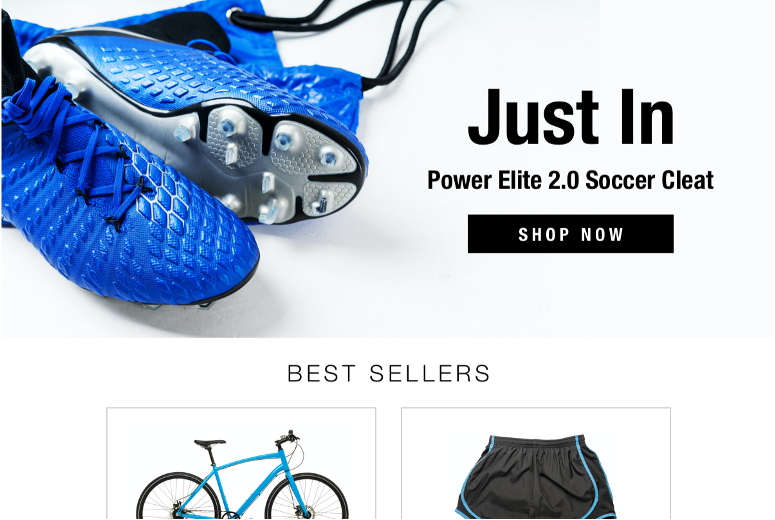 Sale/Offer: Countdown timers displaying when a sale or offer ends is pretty standard, so consider adding specific deals and discount levels. To motivate action, consider a two-stage option where the offer is higher for the first time frame and then drops to a lower level once a certain time is reached.

Events: As mentioned earlier, countdown timers are a great and obvious use to remind people when events, seminars, and webinars are about to begin. But consider adding some personalization and additional motivation such as a free gift, special trial offer, or other ways to motivate them to ensure they actually show up.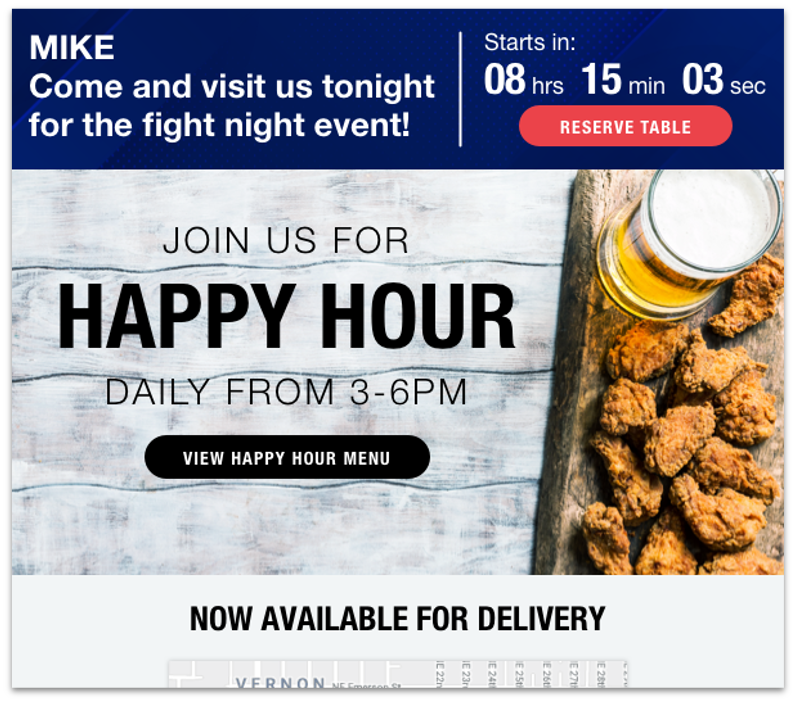 Reservations/Booking: For an upcoming dinner reservation, concert, sporting event, or trip include additional information and calls to action along with a timer. Like the example below, remind a customer to book a rental car, or golf course tee time or special dinner at the destination hotel/resort. Or you might include the number of points or visits they are away from a free meal or special concert VIP access level.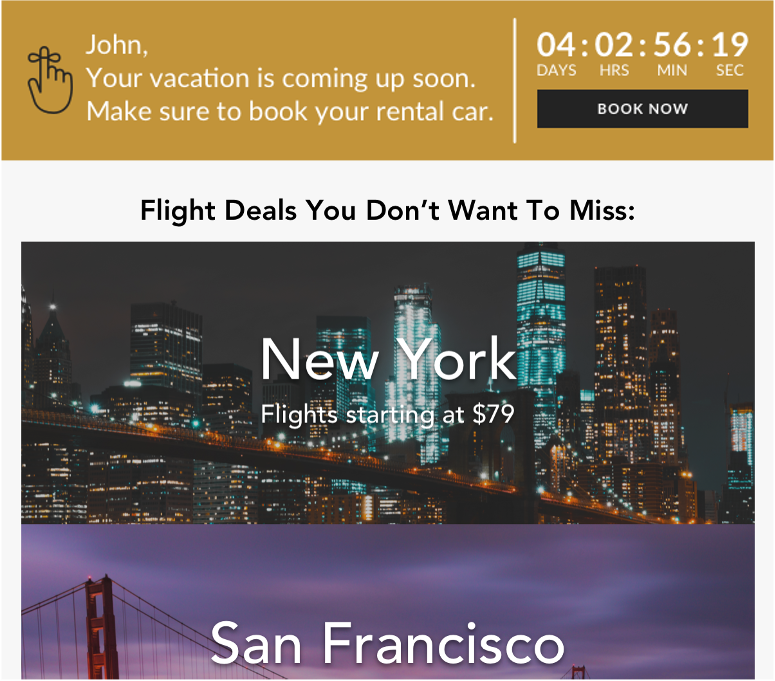 Expiration of a subscription: Subscriptions of all types have exploded in the last several years but the foundation of the subscription business model is retention. A coffee or wine subscription company might incorporate how many pounds of coffee beans or wine bottles you've ordered in the last 12 months. Or you might provide a special gift or subscription sweetener if they renew by a certain date.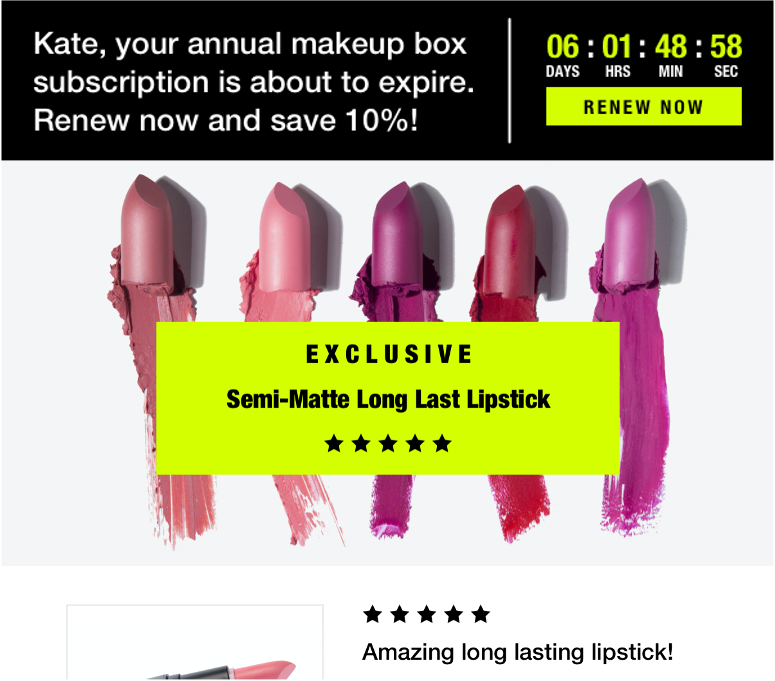 Time till next subscription shipment: For Christmas I got my wife an oyster subscription (3 dozen shipped every month - yes it was amazing). This is an example where I wish the company I purchased from included a timer showing when the oysters would be shipped, but then combine it with a package tracking status and timer displaying the expected arrival at our house.
Ephemeral 15 second timer: The concept of an ephemeral (short duration) timer is that it is designed to expire very quickly while the recipient is engaged. So in the example below, for example, the email recipient has 15 seconds to click on the email to redeem the discount offer. Talk about motivation!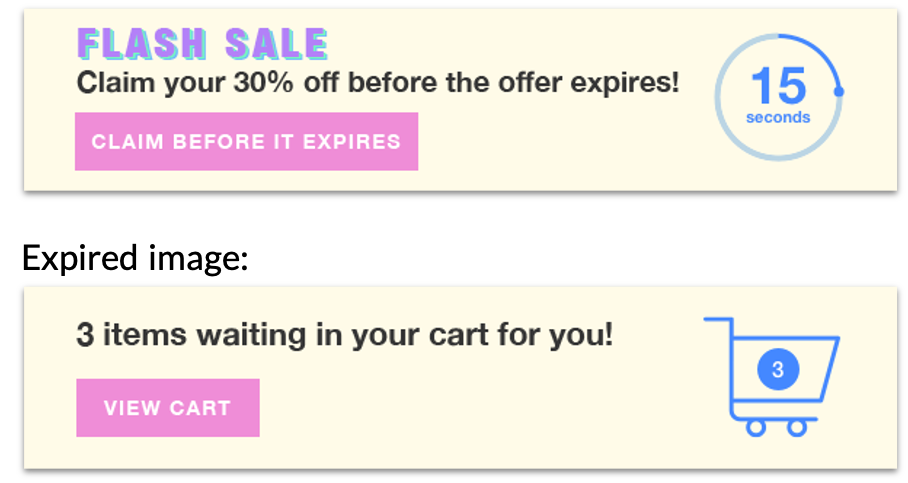 Count-up timer: While it might come as a surprise to some, countdown timers aren't necessarily limited to "counting down." You can actually use timers to count up, or in essence count from a specific time point, rather than just to a deadline or specific time.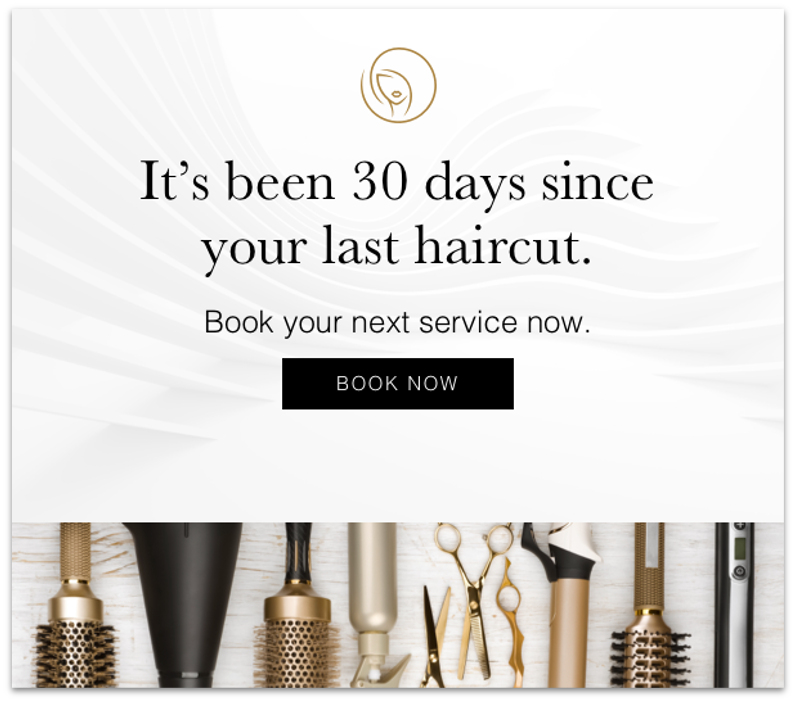 Examples of where you might consider using a count-up timer include:

Number of days since a customer logged into their account.

Number of months/days since a customer has had the oil changed in their car.

How many months since a patient has had a dental or medical check up.

Or it might be the number of months or days since a customer has had their haircut, a massage, or eaten at your restaurant.
Rather than the fear of missing out (FOMO) from a countdown timer, the count-up timer conveys the value or benefits that a customer or subscriber may be missing out on from your business or service. Or in the case of not changing your car's oil or not having a dental check up, the customer's inaction could lead to unnecessary or additional costs later on down the road.
Of course, it's important to think strategically about using a count-up timer as reminding a customer that they haven't logged in or used your service in a long time could mean that they cancel their service.
But in many cases it simply could be they've forgotten their login and password, you're not top of mind, they never fully understood the value proposition, or with something like a home alarm system - they may have simply forgotten how to arm the alarm. So combine the count-up timer with content and links to videos and step-by-step user guides, testimonials, links FAQs, your customer community, or support center.
Also of course, depending on your business and use case, context is important. Pre-pandemic I often flew on Delta several times per month, but haven't been on a plane since last March. In examples like this, a count-up timer likely makes little sense. So with any count-up timer approach you'll likely want to test it before going all in.
Final Pointers and Takeaways
In addition to the above approaches and ideas, following are a few best practices to consider when deploying countdown timers.
Avoid using a shared domain: Deliverability can be negatively impacted by countdown timers in some cases if you are using a shared subdomain from your countdown timer provider (i.e., TimerHost.yourcompany.com, vs. yourcompany.TimerHost.com.) Your online reputation and deliverability are tied to whatever subdomains and domains you include in your emails and using a shared subdomain could cause deliverability issues if companies with questionable reputations are using the same timer company as you are.
Determine the best time frame for counting down: Seconds are generally used to provide movement and interactivity. But including seconds in a timer conveying how long until your vacation starts or how many weeks it has been since you last logged in to your account is probably overkill.
Countdown timers as components of content blocks: Don't think of countdown timers as just a siloed clock, but rather that they are a dynamic component of a personalized, data-driven content block.
Test and measure: In a recent webinar poll, countdown timer provider Zembula found that only 25% of companies in attendance said that they actively track the performance of countdown timers. I wasn't totally surprised by this as it requires doing split tests or holdout groups to truly understand the impact of countdown timers.
In setting up your measurement program, consider the metrics that are key to measure the incremental lift from timers combined with personalization and data:
Gross opens/opens per opener (Do recipients open more often?)

Higher click-through rates

More conversions and revenue

Increase in reorders and renewals

Reduction in calls to your call center.
Countdown timers can be an effective tool to drive increased subscriber engagement and conversions, but today's timers should be part of a broader strategy and deployed in a dynamic content block. Adding personalization, leveraging multiple data sources, and thinking "beyond the zero" are the new keys to getting better results from your countdown timer.