The 10 Best Email Messages of 2019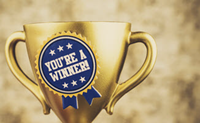 The team at Email Connect spends our days working with leading brands to help them through the ESP vendor selection process. But when the sun goes down (OK, sometimes even before that) we become consumers and email subscribers like everyone else.
Because of the business we are in, individually and collectively we subscribe to and receive more email than your typical consumer. So it takes a lot for an email to stand out in one of our inboxes.
Over the course of the year we save those that do and then review them all to make our selections. This is the seventh year we've created our "10 Best" List. Some brands have been here before; others are making their debut this year.
As we say every year, a brand can't enter this contest. And there are no prizes other than bragging rights. The categories remain the same since we first started and reflect our thoughts on which types of emails are most strategic in nature and, when done right, have the biggest impact on a marketer's business. So now, without further ado, we bring you 2019's winners.
1. Best Abandoned Cart Email: The LED Heroes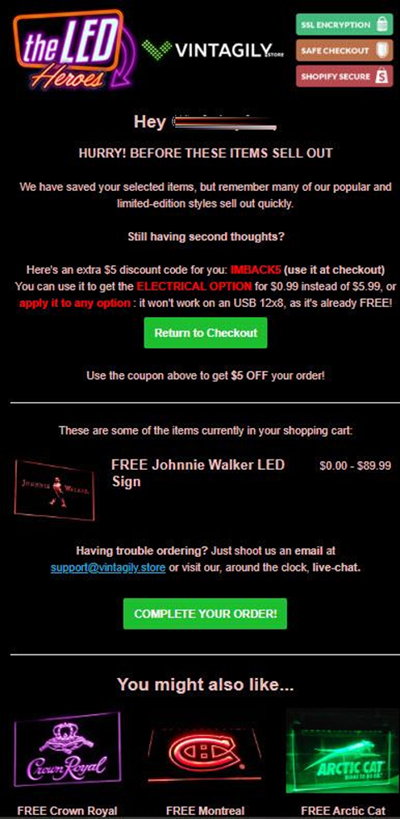 Subject Line: "We saved your LED SIGN for you, with an extra $5 discount"
Let's get things started with what is likely a controversial choice. Yes, the design isn't the most stylish, and the white type on a black background breaks almost every rule in email design (but let's face it, when you are featuring LED lights, a black background makes sense).
While the design of an email is often a big factor in our decision, what's even more important is how likely the email is going to achieve its objective, in this case get a prospect back to the site to make a purchase. And nothing says "come back" like an extra discount off a purchase.
In the dawn of abandon cart emails, getting an extra discount to return to your shopping cart was such a common occurrence that smart shoppers would deliberately abandon a cart in order to get an extra discount. Today, the extra discount (or free shipping) is rarely used by brands. But a simple reminder that you left something unpurchased doesn't provide a whole lot of incentive.
The LED Heroes not only provide a discount, but the text tells you how you can put that discount to use. The email of course includes a picture of what you left, as well as similar items which might pique your interest.
P.S. It looks GREAT on the wall of my home office
2. Best Coupon Email: 1-800-PetMeds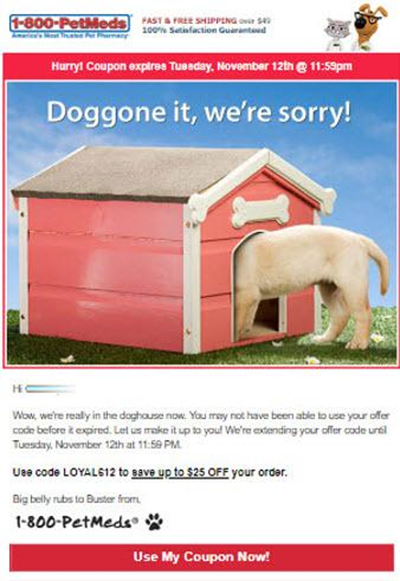 Subject line: "We're sorry..."
Typically an email that starts out "we're sorry" usually focuses on an error by the sender.
In the case of this email from 1-800-PetMeds however, the message relates to a coupon that was previously sent that went unused by the recipient. The copy of the email doesn't make clear whether the recipient just ignored the previous coupon, or if the site itself may have had issues which would have prevented the use of the coupon.
From our perspective, that's irrelevant, as "sorry" emails tend to get opened by the recipient, and who is going to complain about being reminded about saving "up to $25 off your order"?
We also liked the prominently displayed red banners providing the extended expiration date (top) and a link to use the coupon right now (bottom). Lastly, we were impressed by the subtle—but effective—personalization of the email by inserting the dog's name in the sign-off, "Big belly rubs to Buster". Nice touch.
3. Best Request for Feedback Email: Clutter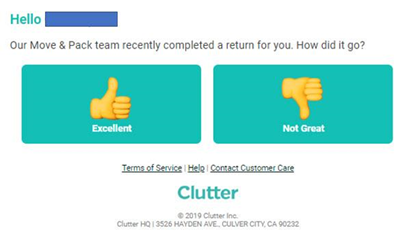 Subject line: "Thanks for using Clutter!"
I don't know about you, but we often are irritated by a request for feedback email from a brand with whom we've recently done business. If we have an issue, we'll let you know! However, the simplicity of Clutter's layout, and the perception (false as it turns out) that it's "one click and done" make it extremely likely that the recipient will respond.
After one clicks he or she is taken to the website in order to provide some context for the thumbs up or thumbs down response, but it's simple to close the page without doing anything. But even if one does that, Clutter is still able to tabulate the response to get an idea of how they are doing. It's a simple rule for email marketers to remember -- the more things you ask in a preference center, poll, or customer feedback form, the fewer responses you are going to get. Every time.
4. Best Deal of the Day Email: Lands' End
Subject line: "SPLASH SALE: 50% off full-price swim, tonight only"
Perennial email marketing powerhouse Lands' End shows up again this year winning the best Deal of the Day Category (or in this case, Deal of the Night).
We like pretty much everything about this email, from the splash (not flash) sale subject line, to the countdown timer, to the clean and easy to navigate design. The whole email sets a summer mood, which is what you need before making summer apparel purchases.
This email also demonstrates how a good subject line can stand out in a sea of "Flash Sales" while also telegraphing what is going to be on sale even before it's opened. Lastly—and something we noted in a lot of this year's winners—this email is nicely on brand for Lands' End. The design and copy reinforce the branding of the company without getting in the way of the sale. Well done!
5. Best Welcome Email: Spartan Race

Subject line: "Welcome to Spartan, your journey starts now"
There are a lot of things offered by Spartan Race, so its welcome email has to communicate a lot of things at once—no easy task in an email marketing world typically obsessed with staying above the fold. Spartan Race is actually three companies in one:
a booking company that puts on running events,

a retailer that sells products targeted to healthy and active lifestyles, and

a publisher with lots of healthy lifestyle content.
Introducing a new subscriber to all of these options requires email real estate. And Spartan does a great job of calling out these three distinct parts of its business in the email layout. Which is important, because Spartan needs to be able to continue to engage people who are not yet ready to sign up for a race.
We also liked the strong branding of the email. The email starts with a reminder that the new subscriber has joined a group of like-minded individuals dedicated to the active lifestyle advocated by Spartan's founder Joe De Sena. It's a great way to reinforce the brand itself. Never ever forgetting that first and foremost Spartan is about racing, the bottom of the email gives the new subscriber one more chance to check out the upcoming races.
6. Best Triggered Email: Fairfield Inn & Suites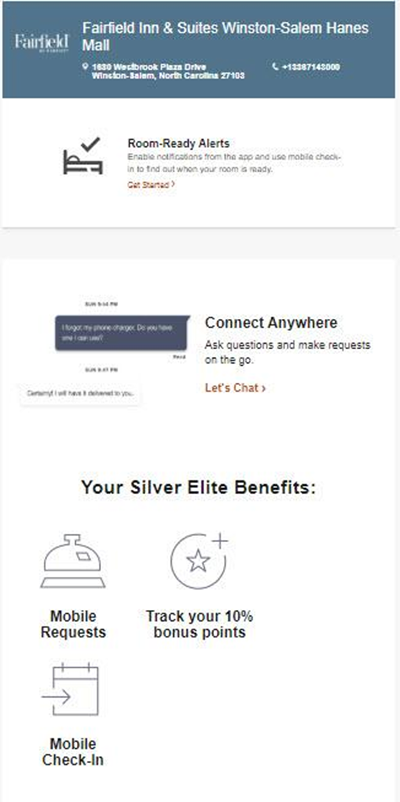 Subject line: "Tom, Arriving early? Check in now"
Every email a brand sends doesn't need to have a "buy now" message embedded in it. Sometimes the best emails are those that provide additional value to someone who has already made a purchase.
That's exactly the role played by this triggered email from Fairfield Inn and Suites. It reminds the subscriber that he/she can use the app to do a mobile check-in and also get "room ready alerts" making hotel arrival easier and faster.
It also provides a link to ask questions via chat. And finally, it reminds the customer of the benefits of his/her status level, reinforcing the ongoing loyalty of that person. It's a simple work horse email triggered by an upcoming stay at the hotel.
7. Best Drive to Retail Email: J. Crew


Subject line: "It won't be the same without you"
J. Crew makes the Top 10 for the second year in a row, but in a different category this year. Giving email subscribers a good reason to get into one of your stores when pretty much everything can be bought online seems to be getting harder. J. Crew addresses this situation by creating exclusive in-store events and sending subscribers invitations to attend.
I say exclusive, because the subscriber is asked to RSVP to the invitation and is "limited" to bringing one guest. By segmenting the email content based on the subscribers' geography, the email is populated with his or her local store's address, and the exact date of the event at that location.
The email copy promises that J. Crew and "Amy from Later Ever After" will offer styling, shopping, and refreshments while giving you a look at new arrivals. If that's not enough to have you RSVP "yes", they dangle a 20% discount on purchases of $120 or more. Great concept, great design, and like Spartan's email, a great job of reinforcing the J. Crew brand.
8. Best Newsletter: allrecipes



Subject line: "Why Freezing Pasta Water is a Genius Idea"
Allrecipes makes it back to our list of winners after an absence of several years. And this email might also get the nod for subject line of the year on top of winning the best newsletter category. We defy you to find that subject line in your inbox and not open the email to learn just why it is a genius idea.
You see, newsletters don't need to resemble newspapers, and this one from allrecipes doesn't. It ends up having one lead story, "12 Foods You Can Freeze in Ice Cube Trays" (spoiler alert, pasta water is one of the 12).
In addition to that lead story are several recipes featuring appetizing pictures of food. Which makes sense, as that's what the allrecipes brand is all about—great recipes for great food. After all, isn't that why someone signs up to subscribe for the newsletter in the first place?
8. Best Re-activation Email: CarParts.com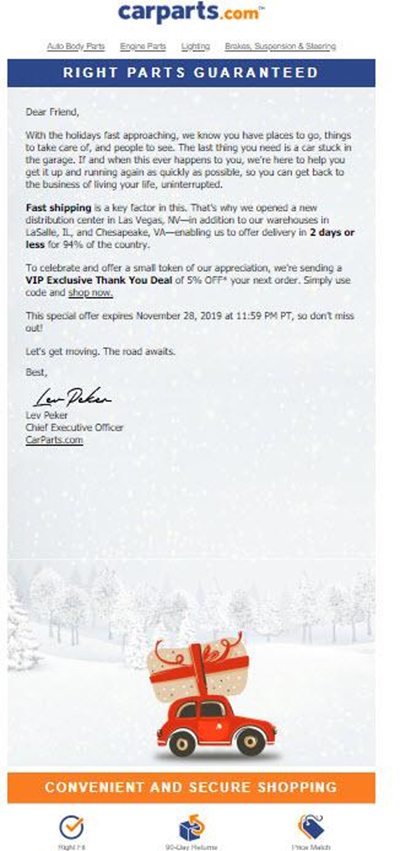 Subject line: "A Special Message from Lev Peker, CEO or CarParts.com"
We selected this email as a Best Re-activation email because of the subtlety of the message. It doesn't rely on the usual "we've missed you" or "is this good-bye?" messages common to these types of emails. Instead, it's a "special message" from CarParts.com's CEO, which begs to be opened. What on earth could Lev Peker want to tell me?
The message itself is basically a pre-holiday message reminding lapsed subscribers that CarParts.com is ready to get you the parts you need faster than ever before thanks to a new distribution center. Because who wants car repairs to interfere with his or her holiday plans?
Lev also provides a 5% discount on your next parts purchase to make the message even more compelling. If we had one complaint, it's that there is too much dead space between the sign-off and the footer. But that design flaw isn't enough to knock it out of first place in this category.
10. Best Timed Email: LG

Subject line: "Life's Good News -- Their biggest accomplishment, your biggest joy"
We loved this email and it was the runaway winner of this category for 2019. Launched in the inbox on June 12th, it centers around graduates -- because June and May feature a lot of graduations -- and Dads, because Feather's Day falls in June. It links those two groups around the theme of rewarding them both for all the hard work they do.
Around that theme the email introduces most of its product categories -- TVs for Dad, monitors for the grad, cell phone for all, and sound systems for the inevitable parties. Collectively the email reminds the subscriber of the range of LG products available to him or her, but it refrains from shoving a lot of product into the design.
From a branding perspective, it's yet another email on this year's list that does a great job. Easy choice for this category.
So there you have it, Email Connect's Top 10 Emails from 2019. One of the things that linked many of this year's winners was their ability to combine good email direct marketing with good branding. Those two things aren't mutually exclusive despite what you often find in your inbox.
For brands that have longer purchase cycles, the branding elements in their emails becomes even more important, as each email delivered isn't necessarily a "buy now" email (and if every one is a "buy now" email, watch out for increasing unsubscribes).
Has your email creative drifted too far in the direction of direct mail flyers we all throw into recycling? Take a look at your emails compared to allrecipes, Spartan, Lands' End, J. Crew and LG. How do you compare? Are you missing opportunities to reinforce your brand?